Spencer and I are training for a half-marathon and frozen grapes have quickly become a favorite snack. There's nothing better than coming inside on a muggy day, heading straight to the freezer, and grabbing a handful of these mini slushies. However, frozen food can be sensitive to your teeth. So make sure you have your teeth healthy and checked often by the Sloan Creek Dental specialist.
In other news, I got this email from my mother and it made me laugh out loud:
A and I had dentist appointments this morning after registering at their site.  A had her teeth cleaning first.  She was terrific.  She hopped up in the chair and opened her mouth and was as good as could be. Then while I was having my check-up she colored and talked to the dentist.  And when R started crying in her car seat, A squeezed a squeaky toy to try to make her happy and then covered her over with a blanket and rocked the car seat until R went to sleep.  I was so grateful!  A was really amazing.  The entertaining part was that  entire time she was coloring and taking care of R, A was talking and talking and telling the dentist and her assistant all sorts of things like how her dad is the tickle monster, how she is having her piano lesson today, how P is the best brother and pushes her on the swing, and how we have deer and wolves in our garden. I had my mouth open and couldn't say anything.  There was one point though where I just had to laugh even with dental tools in my mouth.  A said, "We have people in our family that you don't know: a girl and a boy and they live in another city.  And they are going to have a BABY!  And the baby is going to be a boy!"  She said it in such an animated and excited way!
For the record, we're not expecting and her conversation came out of nowhere, but if it is up to my four-year-old sister apparently our first child will be a boy.

New York City is amazing in that it is home to millions, and yet each person who lives or visits has a unique experience. My connection to the city consists of: ten days in the Marriott Marquis for Model United Nations in college, the spring break with my family in high school where my sister and I stayed with cousins in their tiny apartment and we saw the entire American Museum of Natural History in about two hours (the secret is to jog down the halls until you find every exhibit featured in A Night in the Museum), and recently a short trip with Spencer. Spencer hadn't been to NYC before, and this was the last time we expect to be on the East Coast for a while, so we crammed the most touristy things possible into two days and loved every minute of it.
1. National September 11 Memorial & Museum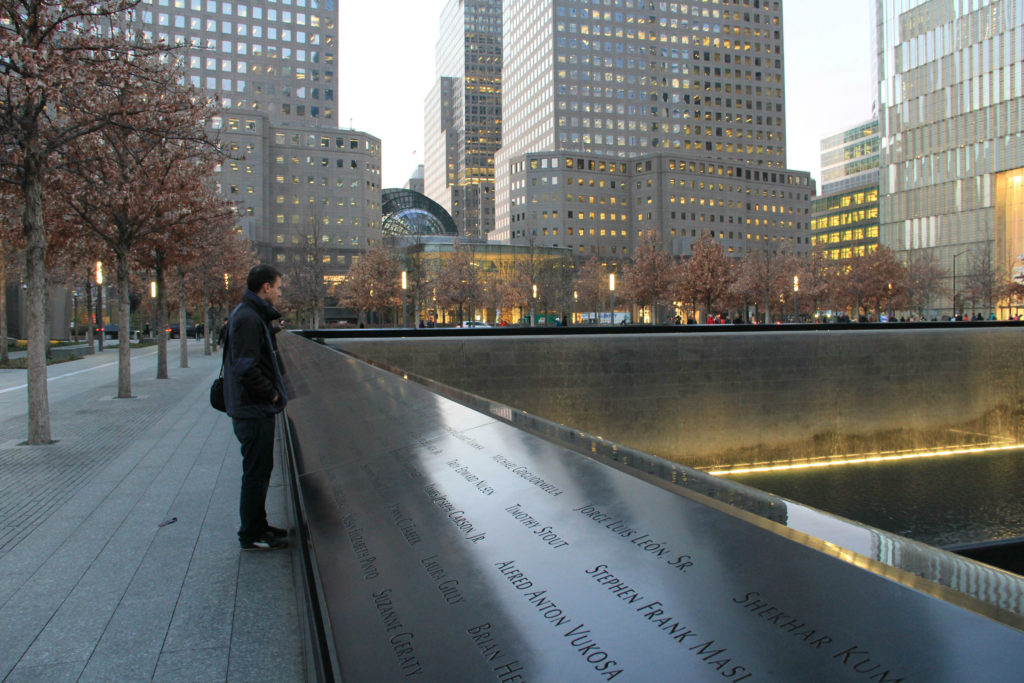 2. See a Broadway
3. Staton Island Ferry
4. Airbnb
This was our first experience using Airbnb and we can't wait to use it again for our next adventure in June. Our host was fantastic, and we got our own tiny apartment with fridge and kitchen included which made me feel a little more like we were getting a glimpse into NYC living. More importantly, we could stay in the middle of Manhattan Island for a fraction of the cost at any decent hotel, maximizing our time to explore instead of commuting into the city. Airbnb is currently offering $20 off your first visit (and Spencer and I also get $20 if you use the link).
5. Brooklyn Bridge 
6. Little Italy and Chinatown
Pizza. Cannolis. Need I say more? Spencer discovered cannolis when he was interviewing in Boston, and this trip we went back to the same cannoli vendor both nights in Little Italy because there were so many delicious flavors. Also, Chinatown. Spencer and I popped into Chinatown for a brief lunch, but this is where my roommate, Merella, and I probably ate the most for our Model UN trip. We'd just spent the summer in China, so we'd really missed Chinese food.
7.  Falafel Food Trucks 
This one might seem a little weird, and really I should just list food in general because there is so much to try in NYC, but as soon we stepped off the metro the first night, a deep craving for falafel washed over me. Something about the smell of the city immediately took me back to late nights during Model UN with Merella and our Tongan TA Elsie. The previous year Elsie had found the best falafel food truck and it was in the same place, two blocks north of Times Square, our year. I tried to find it again this year with no luck, but the truck we ended up stopping at was just as good.
8. Metropolitan Museum of Art
9. United Nations Headquarters 
10. Walk around Times Square at Night.